Axe Throwing
Originated by stout men with full, lustrous beards in the Great White North, axe throwing has proliferated throughout the United States. Axe throwing is a safe, easy, and fun entertainment option. The first time you bury your axe in the bullseye also happens to be completely unforgettable.
Safe.
An experienced instructor oversees your experience, showing you how to throw safely and effectively. Our lanes are built with extra safety measures to avoid bounce backs. We've never heard of a serious injury as a result of competitive axe throwing. After a few throws, the only thing you'll be hurting is your opponents' feelings.
Easy.
You don't need to be able to chop down a forest; just about anyone with reasonable strength can participate in axe throwing. With instruction, you should be able to experience the thrill of hitting the target within just a few throws. Axe throwing is about finesse and the rotation of the axe. Like darts, it takes no great skill to do, but a lifetime to master. And that's why we have leagues! Oh, and, if you CAN chop down a forest, please make sure you have the proper permits.
Fun.
We always do our best to give you a night to remember. Axe throwing is supposed to be a unique, memorable experience, and we're always trying out new games to challenge your skills, and offering different ways to help you get competitive. You never know who among your group might emerge as a future lumberjack!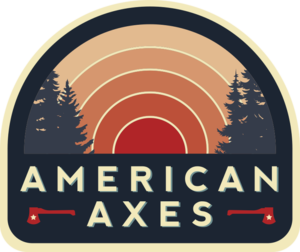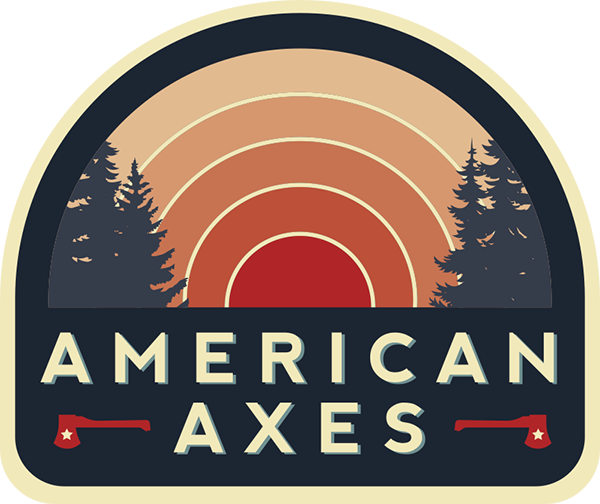 OUR STORY
American Axes is a family owned business. We are a very competitive family where there is always a winner, a loser and a lot of fun along the way. That competitive spirit is alive and well with the experience that we want to provide you with when you come to American Axes. Until 2019, none of us had ever thrown an axe – at least not at a target. We decided to give it a try and had so much fun that we started our own axe throwing company to share our excitement about the sport with others. Our family has a very diverse background with experience with sports & entertainment, safety, nursing, teaching, law, insurance, engineering and interior design – American Axes has been a labor of love to bring out the best skills from all of us.
When choosing the name, American Axes, we sifted through nearly 100 options and landed on American Axes because we wanted to celebrate what we love about living here and our passion for sports and the outdoors. It's not going to be rah rah red white and blue in your face, but rather you will see a National Parks theme and outdoors color pattern. Whatever games are on will be up on the TV's and good music playing on the speakers. We will even have some retro video games to play on the side.
We would love to host you at American Axes and share our vision on axe throwing with you.
Reserve Your Lane
Each lane holds up to 6 people and can be reserved by the hour. We accept walk-in guests on a first-come, first-served basis pending availability. We strongly recommend reserving a lane before arriving.