Axe Throwing
for Team Building
TEAM BUILDING EVENTS
Are you looking for something different for your next team building event? Axe throwing with American Axes is the perfect way to show your team a new way to get competitive with each other. We offer a variety of different options for you to experience axe throwing:
Bring Your Team to the Range
At our throwing ranges, we have plenty of space to spread out and throw axes. Depending on the size of your group, we can customize our packages specifically for you. We will open our doors outside of normal business hours for private events. Should you want food and drink, we have a variety of options for your consideration such as food trucks, catering or delivery. We do not serve food or drinks.
Up to 12 people – throw in the Badlands Lounge, which is a private room with two targets. In the lounge, you have access to your own music and TV to be able to play whatever you wish. Enjoy premium seating. 2-hour experience rates start at $595.20.
Groups of 12-24 people – we can open the stores early for groups of this size, just ask! We will provide your group with a dedicated coach to oversee your experience and facilitate games!
Groups over 25 people – you would have access to our entire facility meaning all of our throwing lanes and amenities are yours to enjoy and a full private event. You choose the music, we provide multiple coaches.
Private Room – only applicable in Marietta and Atlanta, we have a private room with two targets for up to 12-people where you control the audio and TV. Great for a smaller group.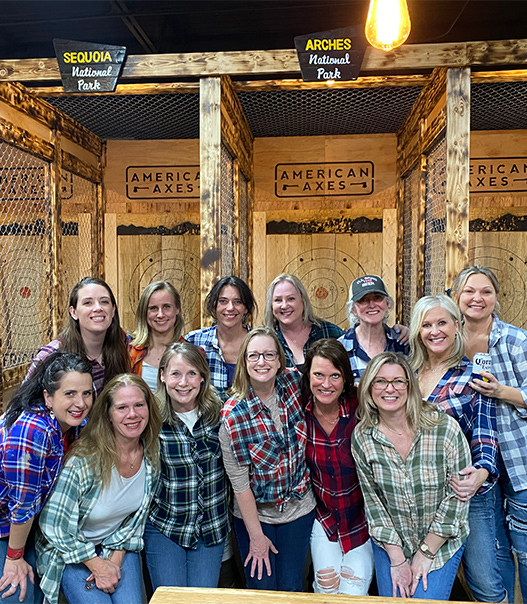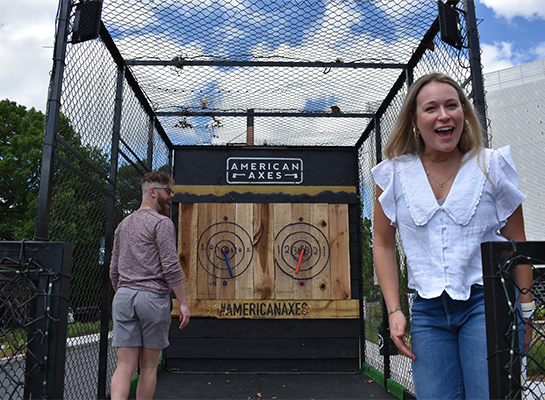 We Bring the Range to You for the Mobile Experience
If you would prefer for American Axes to bring axe throwing to you, our mobile experience is the perfect way to spice up your next event on your terms. The trailer offers two targets to compete and is fully enclosed with a cage. We cater our experience to your event, but some of the fast facts about a trailer event:
2-hour minimum, pricing starts at $595.20
We require a 30ft long x 15ft wide x 13ft. tall space on level ground where we can park our trailer that is easily accessible from the road
Distances of further than 15 miles from Marietta will require additional mileage charges
Both experiences start with a safety tutorial, followed by throwing with our coaching staff providing detailed instruction to each member of the group. All groups are different, but the learning process generally takes between 15 – 30 minutes depending on the size of the group. We provide your group with different games to get competitive with one other. Should you want, we can create a bracket and battle out to determine the best thrower in the group.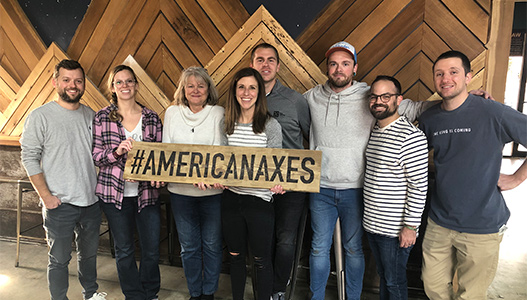 CHURCH GROUPS
American Axes supports faith-based organizations! Some of our most popular events have been with church groups either hosting at our store or bringing our trailer to your events. Axe throwing is a great way to bond and have fun together. We are excited to offer a donation program for churches where 15% of the purchase price of your experience will be returned to the church. Please ask about this program to our sales representatives when booking.
Reserve Your Lane
Each lane holds up to 6 people and can be reserved by the hour. We accept walk-in guests on a first-come, first-served basis pending availability. We strongly recommend reserving a lane before arriving.
Open Throw: Priced per person, easiest way to book a small event with us
Private Lanes: Priced per lane, we group 6 people per lane. Intended for medium or larger groups.
Large Groups: Call us and we can customize an event to your needs including renting out our entire facility.