Axe Throwing in Atlanta Georgia
Are you tired of the same old experience going out? Getting dinner, stopping for a few drinks, maybe seeing a movie, or hitting an arcade? The general day-to-day "treat yourself" moments can become mundane. How about skipping the usual and giving axe throwing a try? Skip the lame and spend a day channeling your inner lumberjack at American Axes in Atlanta.
If you haven't tossed an axe, you don't know what you are missing! Even if you have no experience, we still guarantee you'll have an unbelievable time. We have an amazing team of coaches who are excited to get you throwing. We work with you to test your throwing abilities. We range anywhere from basic instruction to games, tournaments, and everything in between. We offer challenges for all levels of axe throwers. Once you've found your footing, we offer league-approved axes and throwing lanes, as well as league nights to truly test your skills.
If you want to blow off some steam, spice up date night, or find your inner lumberjack, we have exactly what you need. American Axes can't wait to show you the experience you didn't realize you were missing!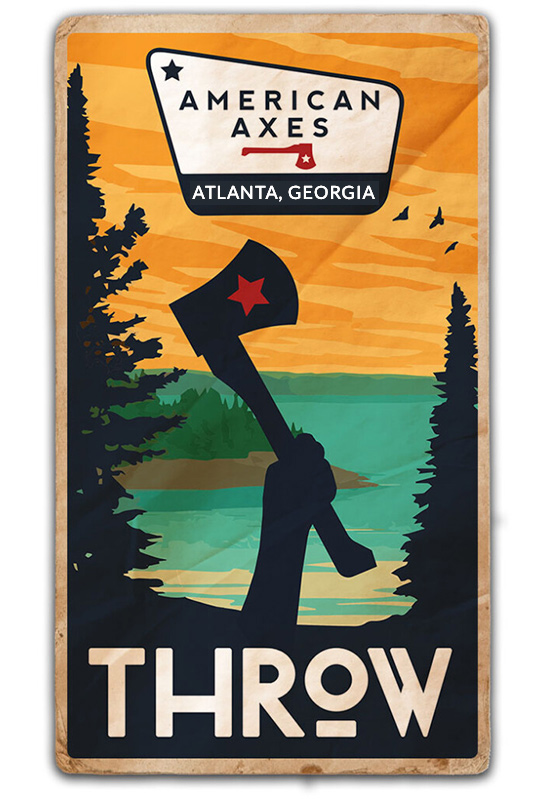 Scheduling Lanes
We offer lanes to walk-in guests on a first-come, first-serve basis based on availability. We strongly recommend reserving a lane before arriving.
Axe throwing is a fantastic way to get competitive with friend groups, bachelor or bachelorette parties and company team builders. We also have catering partners to match your needs. Please call us to book.
We come to you! Our mobile experience is a great way to spice up your next corporate team builder or party at your home. We bring the competition to your event! Alcohol Policy
We sell soft drinks but do not sell food or alcohol. You are able to purchase beer from Dr. Scofflaw and bring it in or we will deliver it to you! We encourage our guests to enjoy food from around The Works and bring it in to enjoy while you throw.
Reserve Your Lane
Each lane holds up to 6 people and can be reserved by the hour. We accept walk-in guests on a first-come, first-served basis pending availability. We strongly recommend reserving a lane before arriving.
Open Throw: $25 per person per hour – our games are designed for groups of 6 people per target. Like golf, there is a possibility to be paired with another small group depending on how busy we are.
Private Lanes: Priced per hour, especially for large groups, we can customize your experience.
$120 for a single lane buyout (up to 6 people)
$660 for half buyout (6 lanes or 36 people)
$1,100 for full buyout (10 lanes or 60 people)