Scheduling Lanes
We offer lanes to walk-in guests on a first-come, first-serve basis based on availability. We strongly recommend reserving a lane before arriving.
Axe throwing is a fantastic way to get competitive with friend groups, bachelor or bachelorette parties and company team builders. We have food and drink partners to make for the perfect event.
We come to you! Our mobile experience is a great way to spice up your next corporate team builder or party at your home. We bring the competition to your event! Alcohol Policy
We sell soft drinks but do not sell food or alcohol. You are able to purchase beer from Dr. Scofflaw and bring it in or we will deliver it to you! We encourage our guests to enjoy food from around The Works and bring it in to enjoy while you throw.
Axe Throwing in Atlanta Georgia
Our Atlanta, Georgia location is at The Works ATL, our aim is to give you the best possible axe throwing experience with access to other great amenities to make your trip a full day of fun! We share the same building as Fox Brother Bar-B-Que and Dr. Scofflaw Brewing so you have immediate access to great food and beer from three locally owned businesses. The Works ATL also includes many other exciting things to do including a 30-stall food hall, a variety of retail and personal care shops, Fetch Dog Park and Your 3rd Spot with more coming in the near future. Come throw axes with us and spend the day at The Works ATL.
If you haven't tossed an axe, you don't know what you are missing! Even if you have no experience, we still guarantee you'll have an unbelievable time. We have an amazing team of coaches who are excited to get you throwing. We work with you to test your throwing abilities. We range anywhere from basic instruction to games, tournaments, and everything in between. We offer challenges for all levels of axe throwers. Once you've found your footing, we offer league-approved axes and throwing lanes, as well as league nights to truly test your skills.
If you want to blow off some steam, spice up date night, or find your inner lumberjack, we have exactly what you need. American Axes can't wait to show you the experience you didn't realize you were missing!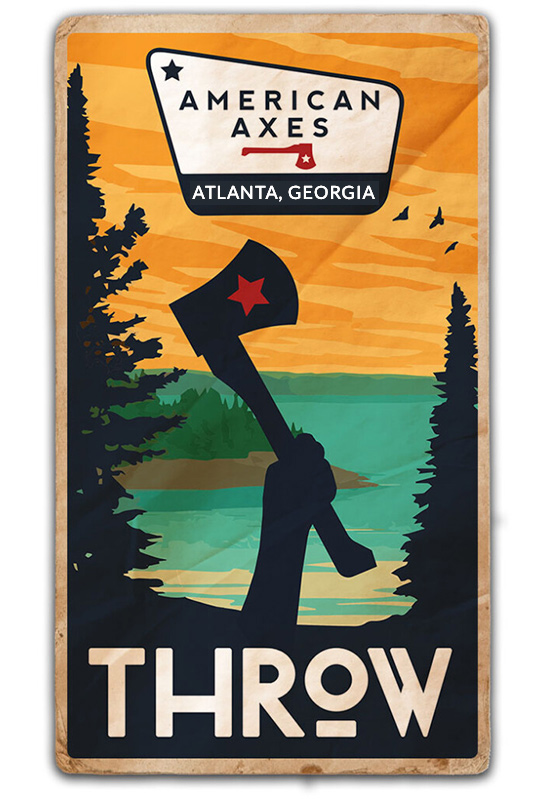 Reserve Your Lane
Each lane holds up to 6 people and can be reserved by the hour. We accept walk-in guests on a first-come, first-served basis pending availability. We strongly recommend reserving a lane before arriving.
Open Throw: Priced per person, easiest way to book a small event with us
Private Lanes: Priced per lane, we group 6 people per lane. Intended for medium or larger groups.
Large Groups: Call us and we can customize an event to your needs including renting out our entire facility.