Denver Axe Throwing

COMING SOON
Axe Throwing in Denver Colorado
Sometimes, even the things you do for fun can get old, and you can find yourself stuck in a pattern of going out to dinner, getting some drinks, or catching a flick. Unfortunately, even the little things you do can sometimes become too mundane and routine. Spice up your night out with friends or family by giving axe throwing a go. Don't settle for a boring schedule when you're looking for a fun night out — find the lumberjack in you at American Axes in Denver.
Have you ever thrown an axe? Now's your chance! Even with zero prior experience, you are going to have an amazing time. Our professional coaches are thrilled to help you better your throwing skills. Our team's work ranges from simple instructions to tournaments, games, and more. If throwing is new for you, you are in for a treat. If you have, our team can help you hone your skills. Whether you're an expert or a novice, our league-approved axes and axe-throwing lanes are exactly what you need for a good time. Our league nights let your test your axe throwing abilities against similarly skilled opponents.
Whether you need axe throwing to relieve the stress of a tough day, discover your inner lumberjack, or liven up a date night, we've got the axes for you. At American Axes, we want you to have the experience of a lifetime.
Our location in Denver, Colorado, is in Edgewater Public Market, an incredible place for all sorts of fun events, from food stalls, to boutiques, to events like goat yoga, knitting nights, and movies. Come find us there and join in on all the fun events! Reserve your lane with American Axes today.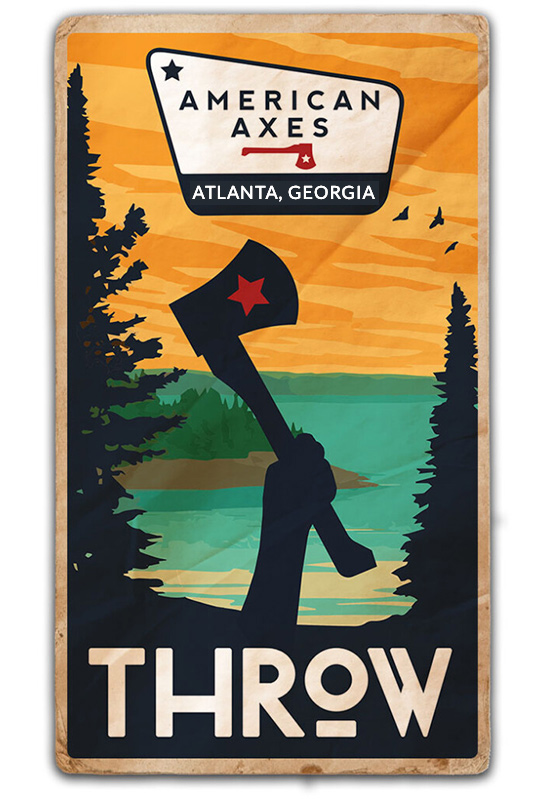 Scheduling Lanes
Our walk-in lanes are first-come, first-serve, and so we strongly recommend reserving a lane before arriving, as they are based on availability.
For a fun, competitive night with a friend group, a company team building getaway, or a bachelor-bachelorette party, axe throwing is a great way to hang out and have fun. We also partner with catering to match the needs you need for a perfect night. Just call us to book.
You can also get axe throwing brought to you! Our mobile axe throwing is a great way to liven your event at work or party at home, bringing the fun competition straight to you.
Alcohol Policy
We don't sell food or alcohol, though we do sell soft drinks. We encourage guests to bring food and drinks from around Edgewater Public Market to enjoy as you throw axes. You can also purchase beer from Dr. Scofflaw to bring in or get delivered.
Reserve Your Lane
Each lane holds up to 6 people and can be reserved by the hour. We accept walk-in guests on a first-come, first-served basis pending availability. We strongly recommend reserving a lane before arriving.
Open Throw: $25 per person per hour – our games are designed for groups of 6 people per target. Like golf, there is a possibility to be paired with another small group depending on how busy we are.
Private Lanes: Priced per hour, especially for large groups, we can customize your experience.
$120 for a single lane buyout (up to 6 people)
$660 for half buyout (6 lanes or 36 people)
$1,100 for full buyout (10 lanes or 60 people)