Axe Throwing in Denver Colorado
At our Denver, Colorado location inside Edgewater Public Market, our aim is to give you the best possible axe throwing experience with access to other great amenities that make your trip a full day of fun! Our Edgewater location shares a wall with Barquentine Brewing, and we love it when people grab a beer and come over to throw. Also in the market is a 15-stall food hall with a great variety of eats and many retail shops to check out.
Have you ever thrown an axe? Now's your chance! Even with zero prior experience, you are going to have an amazing time. Our professional coaches are thrilled to help you better your throwing skills. Our team's work ranges from simple instructions to tournaments, games, and more. If throwing is new for you, you are in for a treat. If you have, our team can help you hone your skills. Whether you're an expert or a novice, our league-approved axes and axe-throwing lanes are exactly what you need for a good time. Our league nights let your test your axe throwing abilities against similarly skilled opponents.
Whether you need axe throwing to relieve the stress of a tough day, discover your inner lumberjack, or liven up a date night, we've got the axes for you. At American Axes, we want you to have the experience of a lifetime.
Visit our location in Denver's Edgewater Public Market, an incredible place for all sorts of fun events, from food stalls, to boutiques, to events like goat yoga, knitting nights, and movies. Come find us there and join in on all the fun events! Reserve your lane with American Axes today.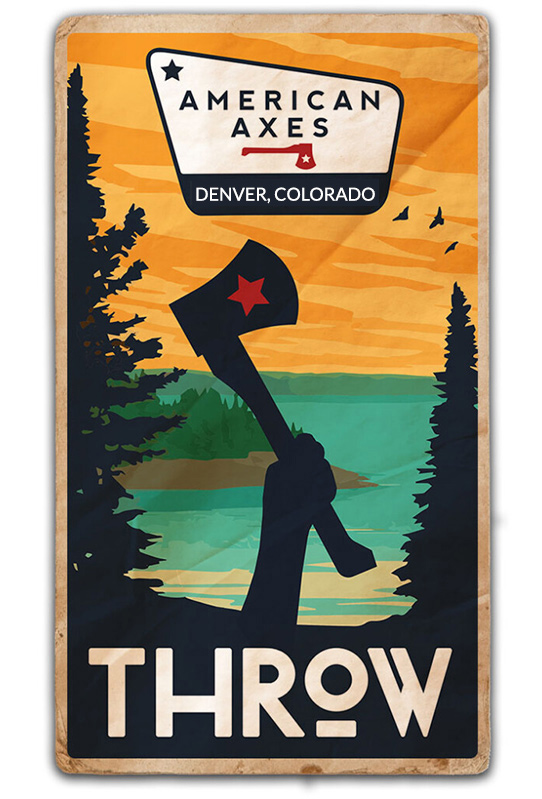 Reserve Your Lane
Each lane holds up to 6 people and can be reserved by the hour. We accept walk-in guests on a first-come, first-served basis pending availability. We strongly recommend reserving a lane before arriving.
Open Throw: Priced per person, easiest way to book a small event with us
Private Lanes: Priced per lane, we group 6 people per lane. Intended for medium or larger groups.
Large Groups: Call us and we can customize an event to your needs including renting out our entire facility.