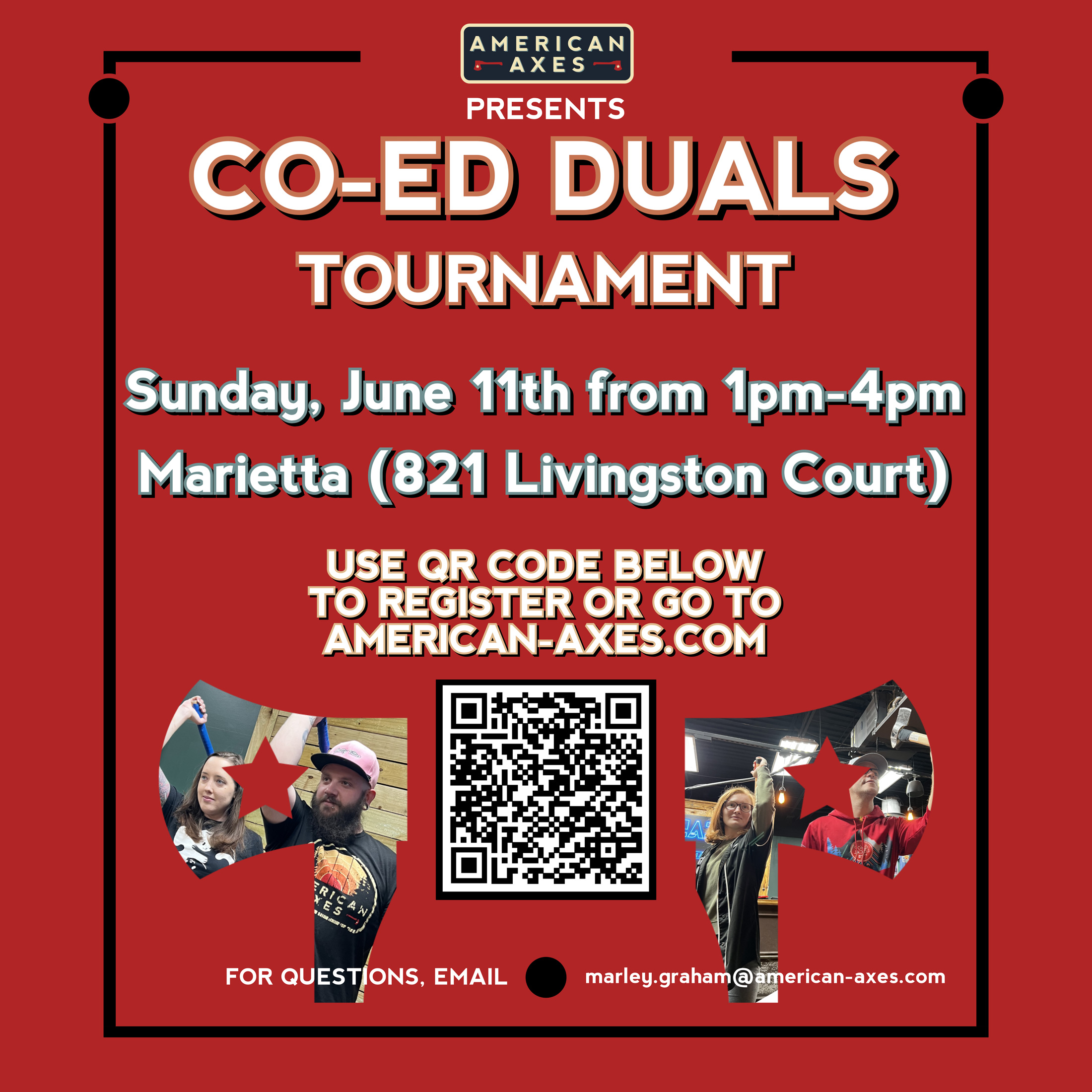 Attention throwers!! Come one, come all to American Axes' co-ed duals tournament!! That's right, folks!! Your favorite axe throwing venue will be holding a unique competition pitting teams of two against in a double-elimination style tournament!! The catch? Each team must consist of one male thrower and one female thrower.
"We are very excited to host a co-ed Duals tournament," said owner, Dan Fisher, "Having just recently started duals, it has quickly become one of our favorite axe throwing disciplines because of the unique nature of having a teammate. One thing that we would love to grow in the future is the number of female throwers that compete in our league, and this duals tournament is meant to be a big statement that axe throwing is for everyone. We aim to have a big turnout!"
For those curious, Duals is a little different from standard hatchet throwing, with the main differences being:
Teams throw at the same target simultaneously, and players must throw in unison from similar distances.
If one teammates axe reaches the board before their partner releases their axe, the throw is considered illegal and no points are awarded. Individual throwers may call kill shots at any time and do not have to call kill shot on the same throw as their partner.
Want details? Visit https://worldaxethrowingleague.com/big-axe-and-duals-leagues/ to learn more.
Come sharpen your axe throwing skills while you mix and mingle with some of our best!!
Team entry fees are $30. Want to participate, but don't have a partner? Have no fear!! Just email marley.graham@american-axes.com and you'll be placed on a list to be matched with another eligible single thrower. (Note: Each participant will be charged $20 once a partner has been secured on their behalf.)
One of the most important aspects of axe throwing is the community that surrounds it, and we are committed to making the sport more engaging and more accessible for everyone!! Join us for an afternoon of competition and camaraderie you won't soon forget.