As a business that was just into our third month of operating, Coronavirus was a rude awakening to how quickly things can change in business and in life. We are thrilled to be re-opening, but wanted to communicate to our customers that American Axes has made the necessary adjustments for social distancing and cleaning protocols.
During the current phase one of re-opening, we have immediately implemented the following safety measures:
All axe handles, surfaces and chairs are to be disinfected with hospital grade disinfectant before being used again.

We will have constant airflow by having our front and roll up door always open

All American Axes employees are always to wear a face mask 

There will be three (3) throwing areas with a minimum of six (6) feet to separate active throwing areas

Floors will be taped to indicate six (6) feet of distance

A single group size is not to exceed six (6) people

Waivers must be filled out online before arrival or on personal devices

Check-in and waiting area will be set-up outside the entrance
I got used to hearing from our customers how wonderful axe throwing is for stress relief. You don't need to be stressed about our commitment to safety and you can focus on letting out some of your stress.
During this first phase, I believe that the experience is going to allow you to get to know our coaches even better and receive more 1-on-1 coaching. Some memorable nights when we just had opened were when I was coaching a couple of groups by myself. I found that I made friends and we invented new games. 
Now more than ever, we are looking forward to hosting your party!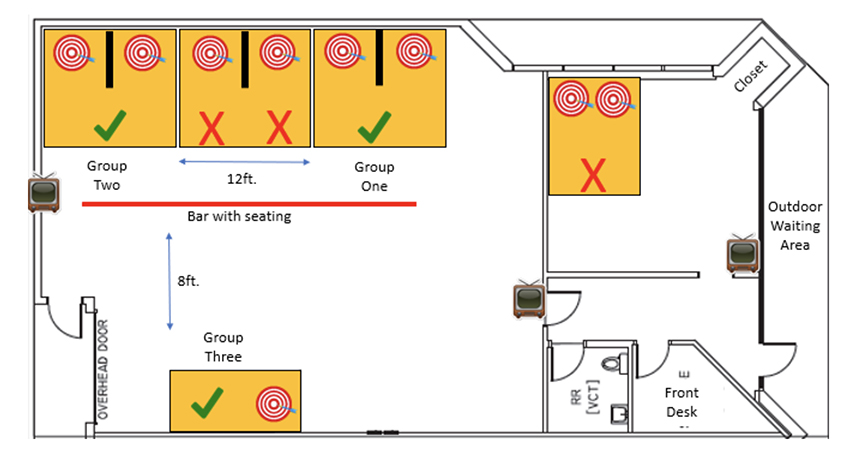 Photo: American Axes floorplan, updated to show where the three throwing stations will be located during phase one.