By Wes Smith
We made it through the 8 weeks of the American Axes Spring 2023 WATL Season! We appreciate everyone who participated in both hatchet and duals across all three of our stores and we hope to see you all next season plus many more!
We decided as a group that both hatchet and duals would be best 2-of-3 which led to some serious drama.

Colton beat Tom for the championship in Hatchet.
Ebony and Ivory (Evan & Whitney) beat Ripping 6's (Jacob & Dan) for the Championship in Duals.

Evan (57) and Dan (55) set their season high scores during tournament play.
Wes announced that he will be taking the summer league off to let the ol' axe throwing arm recover, boosted by a heavy dose of Ibuprofen, he showed no signs of fatigue tonight finishing 3rd in the tournament.
At the conclusion of games, a good portion of the us stayed to hang out and play drinking games on the patio (photo attached). This has become a The Works league tradition that we are glad to have kept going.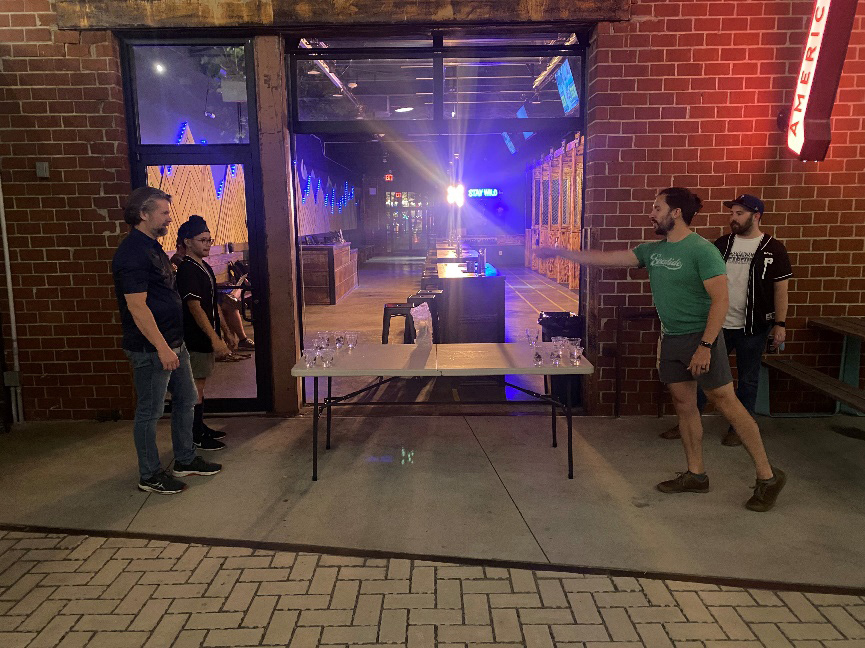 Colton pulls off the double and took home the hatchet championship in consecutive days. For style points, he closed it out with a perfect game in the finals.
Congratulations to Noah for making it all the way to the A bracket finals and finishing 3rd overall in the tournament.
Team Who Knows (Brandon & James) took home the crown in duals over Lucipurr (Jacob & Grant)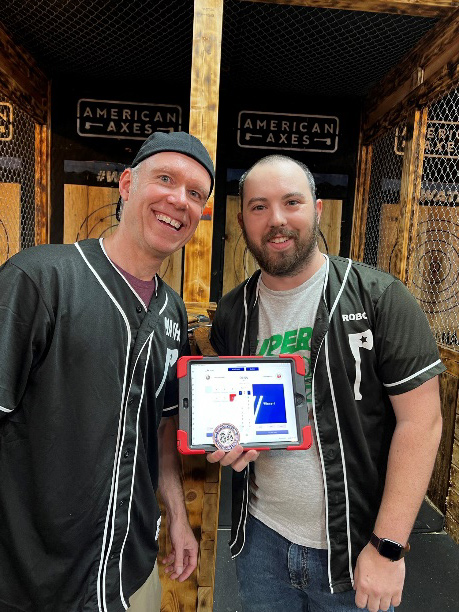 Congrats to Walden for taking the title of League Champion! We had a lot of close games, but it was a great time for everyone.
Instead of using regular axes for the entire time, we made our games super interesting by allowing players to roll the dice to choose their weapon. We had axes, knives, cleavers, axe heads, and stars as options. We switched weapons between games, and things got pretty wild! It made the games fun and challenging.
We drew the attention of a lot of people in the marketplace. Everyone was curious about our weapons and members. We love seeing people get excited about the sport, and hope that our having fun leads to more customers coming in.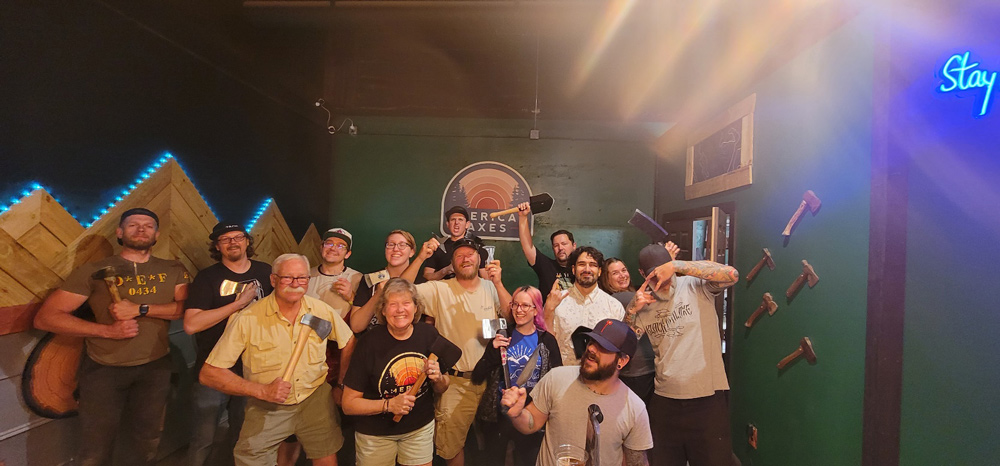 The Joy of Duals!
We just wrapped up our second season with the World Axe Throwing League and our second season of duals! If anyone had told me 2 years ago when I started that not only would I start throwing at the same target, at the same time with our newest employee Colton, forming Team 20%, I would have laughed. Now not only are we throwing together, but we also aren't half bad at it either.
Everyone knows that Colton is the pro thrower in our leagues and that I am most certainly not a pro. The fun thing about duals is any two people can team up together and have a fighting shot at winning any game. In my experience, throwing next to Colton has improved my game and motivates me to rise to his level when we throw together. 
Duals isn't as simple as throwing solo though, it requires timing. There is a small window to throw the axes in unison at such a small target. If you're off even just a little bit, it can cause your axes to hit the back of the other axes, costing you points. Unfortunately, that will happen from time to time, axes will clash, fall, get dented, scratched, and destroyed. It's the risk you run when throwing duals, many people have a beater axe they throw so it's not a big lose if it gets destroyed. Team 20% went the opposite route and had custom matching handles made by one of our members, Tom Jones with Axelanta. We wanted to throw a quality axe with a quality handle so we could do as well as possible! I think the results speak for themselves. 
I highly recommend everyone tries duals for at least one season, it is so much fun having someone standing there with you to share in the victories and loses. Contact American Axes to learn more or reserve an axe throwing lane today!