In late-May, I sat down on the Schoolhouse Brewing patio with their owner, Thomas Monti, just to chat about how we were handling our businesses in the new climate created by COVID-19. Thomas asked me, "What's your pivot?" – a question that I did not really have a great answer to at that time. I was just trying to survive. Our business was open for less than 3 months before having to temporarily shut our doors for the pandemic – a business that is 100% dependent on people coming to be entertained by us. I figured that if we kept providing a socially distanced, safe and clean environment, we would be able to survive and that there were enough people that would be wanting safe activities. To a degree, I was right, but that line kept pulling at me. Was there something that I could do to adjust to the change in consumer behavior?
A few weeks later after a few pints of a Schoolhouse Black IPA – it came to me – American Axes needs to build an axe throwing trailer! For those not comfortable with going to visit us in our store, we could come to you and be outdoors with even more distance than in our store. What a great opportunity that a few others had already been doing as a primary business.
Feverishly, I wrote a business plan on how we could do this and sent out an e-mail to our leadership team well after midnight. After some reviews and revisions in the plan, we decided to go for it.
This was mostly a DIY project that I worked on for a couple of months with the help of a local welder. I learned a whole lot in this process, but the biggest learning point was to avoid a fixer upper. We bought a used trailer because of low cost and as I removed the original deck boards, it revealed a two foot section of the trailer frame had been cut out at some point in the past and the deck boards were the only reason keeping the trailer together. The solution was pay $400 to get the welder to attach a new section of frame.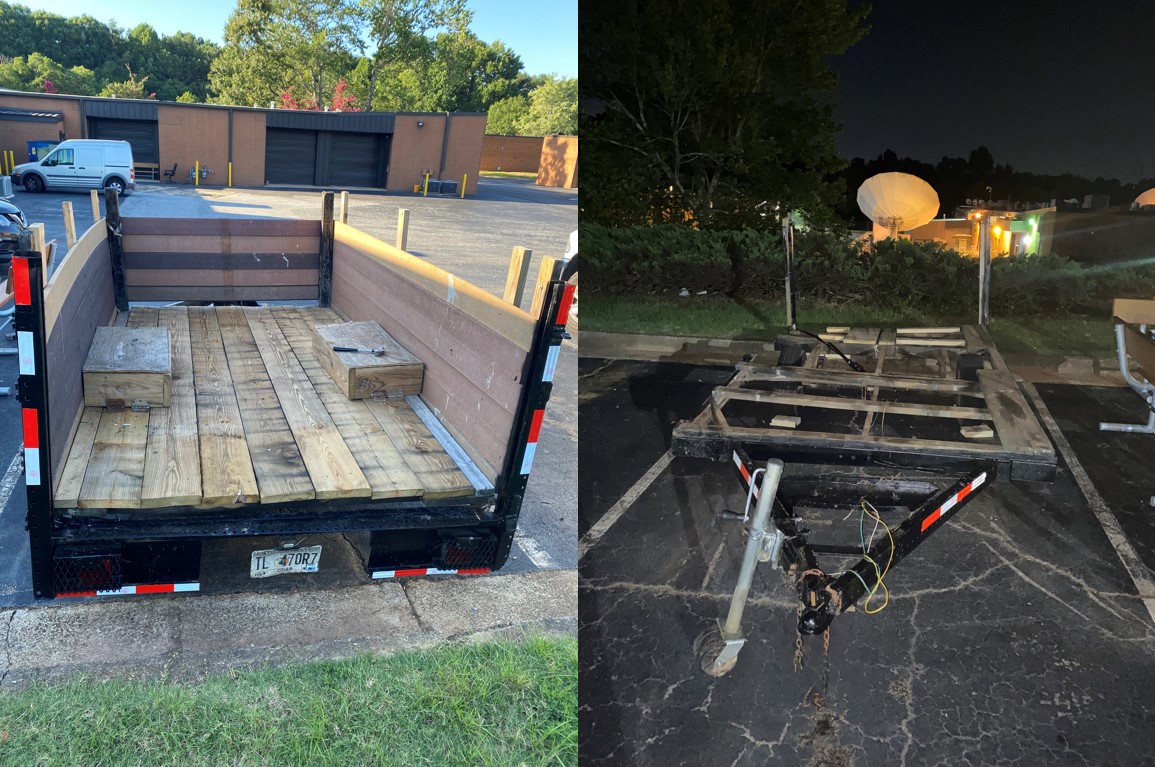 Photo: (Left) – this was the condition of the trailer when it first arrived (Right) – after removing many of the deck boards, you can see the back left sagging where the frame had been cut.
Once we recovered from my error in judgment and the trailer became road worthy, we designed it to be compact and functional. Some of our design features: 
From the ground, the entire cage is 9 feet 8 inches tall – significantly shorter than our competitors because our throwers are on the ground level making ours more nimble to move indoors when requested.

It has steel doors that come of the end of the cage to create a totally enclosed experience for 16 feet.

We installed a thick rubber floor which helps stop axes from bouncing around or sliding.

There are two targets for people to compete against each other.

Built a stair using the reclaimed deck boards from the original trailer.

Designed barricade to create a branded throwing area that our staff can control who enters.
Roughly three months from the conversation with Thomas, things came full circle. We set-up our trailer for the first time at Schoolhouse Brewing right in front of that same patio where the conversation originated.
The purpose of this story is to reiterate the importance to adapt. I'm not speaking just about businesses, but also down to people working on their careers. 2020 has created so many challenges for Americans that it also is an excellent opportunity to try something new or work on something that you have been wanting to try. This pivot for American Axes has been a helpful new sales item that allows us to come to visit customers and also build our brand as events begin to return to Atlanta.
So, what's your pivot?